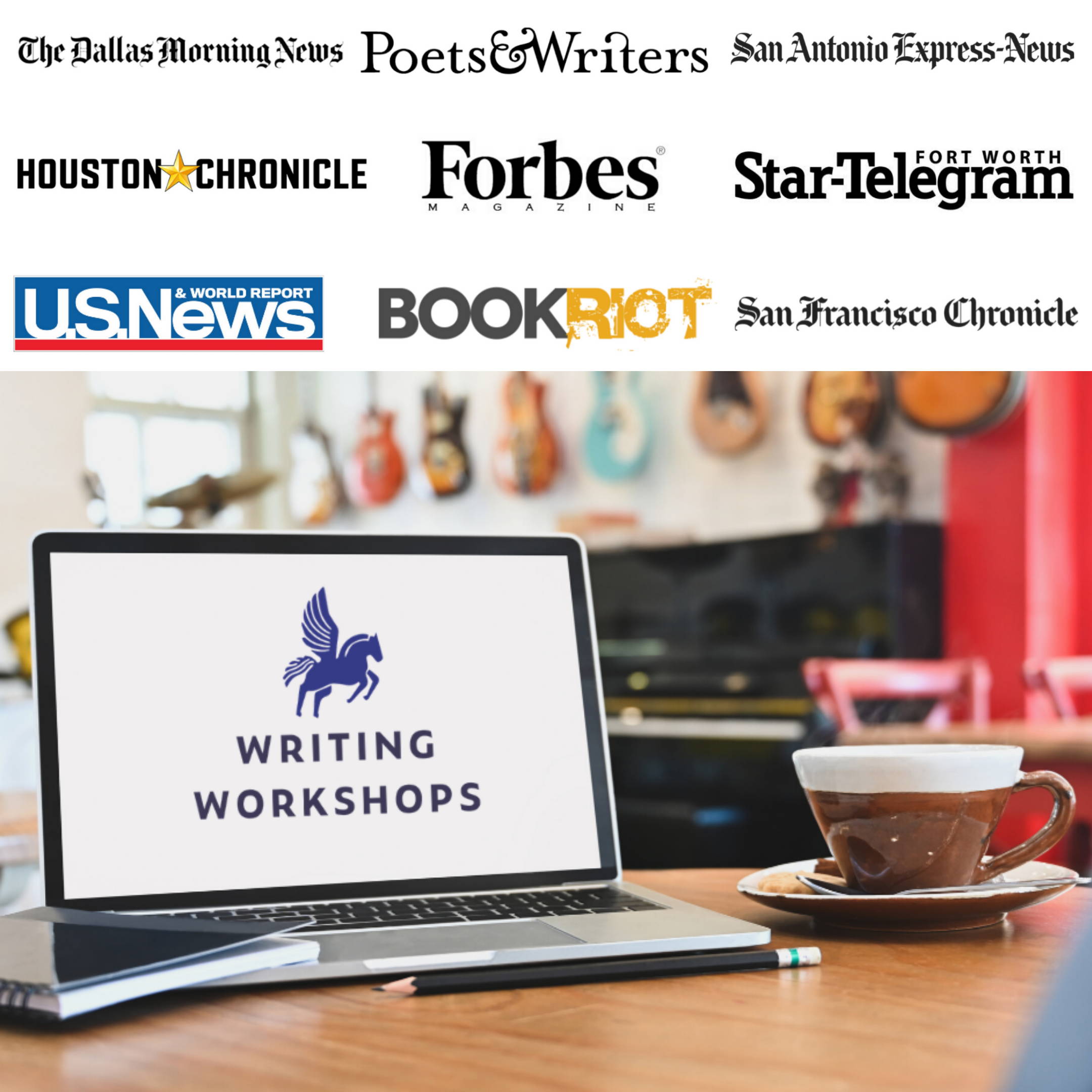 "I highly recommend these classes. I just completed the Personal Essay course with Mag Gabbert and it was great."
"Wrapped up my first fiction-writing course with Writing Workshops Dallas tonight - it was an intense 8 weeks but SO glad I did it! It has made me much braver, writing and otherwise."
"I have nothing but high praise for Writing Workshops Dallas. I took a fiction course with Blake and attended one of his seminars. Blake is one of the best writing instructors I've had. The course definitely helped me navigate the literary community and strengthen my narrative skills. The environment is inclusive and encouraging. You're surrounded by people who are taking courses for the sheer love of writing. I implore you to explore WWD and its course offerings. Since taking Blake's course, I have had a short story accepted for publication and was admitted to a fully funded MFA program. Thank you, WWD!"
"I was so nervous when I signed up for my first seminar with Writing Workshops Dallas. I took the Dare to Dream in 2019 course from Whitney Davis in January, and this past weekend, the Writing a Killer Query Letter seminar from Harry Hunsicker. I've learned so much, I always leave SO pumped and ready to get to work. Finding something like this in Dallas was a treat and I know my future success will be partially down to the support and knowledge I gleaned from Writing Workshops Dallas. I can't wait to go back!"
"I took the online nonfiction class with James Tate Hill and I highly recommend it. It allowed me to savor in full the precision and mystery of writing essays. He is an exquisite mentor. The first story I submitted and revised in workshop has already been accepted by a Literary Magazine. I am thrilled I took this class."
"Writing Workshops Dallas is a warm, nurturing environment to challenge and hone your writing skills. If you are looking to write short stories or a book, this is the place for you to launch your writing adventure. I took a Mixed Level Fiction class with Blake Kimzey in the fall of 2018 and an Advanced Fiction class with David Samuel Levinson in the spring of 2019. My writing improved dramatically during each class. The learning experience of a workshop style class is unique in that a significant proportion of your growth comes from critiquing other student's work. When you come back to your own work after that experience, you are able to see it with fresh, enhanced eyes. I highly recommend David Samuel Levinson and Blake Kimzey as amazing teachers and recommend any class experience with Writing Workshops Dallas!"
"This fiction workshop exceeded my expectations! It was an amazing learning experience. Eden exposed me to new writers that I had never read before which really opened my eyes to new ways of thinking about my own writing. I feel like Eden raised the bar on what I should expect from myself and my writing. She used really great examples of specific writing to drive home how elevating your entire writing process can truly make you a better writer. I feel like I am walking away from this class with new skills to practice and a new way of looking at how I read."
"I took the introduction to Fiction class with Eden Elieff and she really opened my eyes to really great literature that I didn't know was out there. The class became a tight knit group and we were sad to see it end. I learned so much from not only the readings, but from others in class as well. I feel like there's so much more to learn. Thank you Writing workshops and Eden!!"
"I took a workshop Sunday with Whitney Davis and I tell you what she is a firecracker extraordinaire. Her "Dare To Dream" Workshop inspired me so much that I have already achieved one of my goals for this year: setting a site for the book I'm writing. Whitney is sincere, brilliant, compassionate and a hoot. If you take any of her classes, be prepared for your hairs to be blown back. I am still trying to tame mine!"
"The first short story I ever wrote, crafted in Blake Kimzey's workshop, has now made me published fiction writer. Thank you for the wise guidance, unflagging enthusiasm and for bringing me in from the wilderness."
"I took a summer session Intermediate Fiction workshop with Blake Kimzey and can't recommend him enough. Blake's teaching style is relaxed and he is encouraging of all his students. He does a good job easing what can be an intimidating environment for many, and gave everyone quality feedback to take their work to the next level."
"James Tate Hill's 8-week online Writing Memoir and Personal Essay class was top-notch. His carefully-chosen and varied readings both inspired me to approach my own writing in a new way, and pushed me to go deeper, explore symbolism and find overarching themes--something I hadn't really done since grad school so many years ago. The participants had a wide range of writing abilities and life experiences, and yet J.T. expertly tailored his critiques to each of us, giving detailed, perceptive and constructive feedback to all of our submissions and comments. He also gave us practical and valuable information regarding submission and publication. I will likely be referring to the notes from this class for the rest of my writing career. J.T. and WWD provided us with a semester's worth (or more) of information, at a fraction of the price."
"I'm currently taking an intermediate short story writing class at Writing Workshops Dallas from the owner / founder, Blake Kimzey. He was my instructor at UTD where I took my first writing class, and I can't say enough good about my experience in workshop with him. Learning a lot, honing my craft as a writer, and meeting many other writers, good writers. It's so much fun. Looking forward to retiring next month and writing full time."
"I have now taken two seminars from WWD. I keep telling people that the Self-Publishing 101 session by Shayla Raquel was the best $60 I've spent on my career. And I was already published! I took another seminar that might have been even better. Jessica is so nice and helpful at each seminar. I also love that once you take one class, all the others are discounted forever! This is an amazing organization and such a treasure for writers in DFW."
"I have taken two Personal Essay classes and the Publishing Seminar with Mag Gabbert and they have all been invaluable. As a published writer, Mag knows the ins and outs of the publishing world and what it takes to get a piece accepted by a literary journal. She edits your work thoroughly and gives feedback that will makes your essay stronger. I also appreciate that she looks for 'what works' in everyone's essays, no matter how accomplished or amateur a writer may be."
"Mag is better than any writing teacher I had while getting my Master's degree. Her edits/suggestions are generous, insightful, and the most helpful I have received. (I have taken writing classes from two other organizations outside of graduate school.) I will probably be taking a third class with Mag in the fall."
"I enjoyed the class a lot and found Mag's insight and peer critiques to be invaluable in my growth as a writer."
"I would highly recommend taking Eden Elieff's 8-Week Fiction workshop. She promotes and encourages thinking, reading and writing to higher levels."
"I attended a workshop last weekend with Eden Elieff. There were 5 of us so we enjoyed a lot of reading and discussion, and were able to move at whatever pace we felt comfortable with, though Eden kept saying, "I have so much more I want to cover!" So much great writing, so little time! As a group we chose not to spend too much time writing but to focus on reading and sharing great writing. For me this was perfect; one of my goals this yeas is to read more excellent writing, as it is one of the best ways to improve your own writing. I really enjoyed Eden and the group. I'm sure I could have stayed at least a few more hours."
"I took the Personal Essay Workshop with Mag Gabbert and learned SO MUCH! I had no idea how much craft is involved in writing a good essay! I really appreciate the time and effort Mag put into critiquing my essay, and learned a lot from critiquing my peers' essays, as well. I'm taking Mag's poetry class in August. Can't wait!"
"Huge shout out to Steve Adams, who was my writing instructor these past few months. His advanced fiction class filled me with joy and ignited a groundswell of desire to improve my craft. It's hard, this writing thing, but he was positive and encouraging, something that I am woefully in need of, then and now. As an editor, he was able to surgically go in and find out what was wrong with my story. Remove the fat. Help me figure out how to fix it. Take a class with him. You'll be glad you did."
"I attended Blake Kimzey's Fiction II 8-week short story writing class and Joe Milazzo's 3-hour Poetic Form & Inspiration seminar -- both were time and money well spent. From the specific, encouraging feedback from instructors and students, to the wealth of literary info and writers' resources provided before/during/after class, to the valuable networking opportunities with a diverse group of courageous classmates, I have returned to my writing with renewed energy and -- BONUS! -- the local literary world has opened up to me through these workshops. I'm hungry to participate in Fiction II again in the fall with Blake to read, write and learn even more, and will be on the lookout for Joe's next poetry seminar for even more inspiration!"
"I took the Novel Workshop with Jaye Wells this fall and it was extremely helpful. She shared many of her personal tips for writing, organizing, world building, plus provided articles on relevant topics. Great class. Highly recommend."
"Shayla Raquel's class on book marketing was fantastic! Informative and well thought out, there were so many ideas to immediately implement - and she only touched the tip of the iceberg. Please bring her back for part two!"
"Amazing presenter and workshop! I attended the workshop, Book Marketing, presented by Shayla Raquel on 3/24/19. Shayla not only provided excellent content, she made it relevant by showing all of us how it all works. Honestly, I did not expect to learn so many good tips on marketing a book. I especially did not expect to be fully engaged and captivated on the topic of Book Marketing for 3 hours on a Sunday afternoon. Excellent, excellent workshop."
"There are lots of good writing teachers; Eden Elieff is one of the great ones. She's not just a published writer & extremely knowledgeable about the entire field. She's also a great instructor. She focuses on supporting you & your writing goals and makes you do the work. From provoking you to counseling you to giving you actionable ideas, Eden will help you get to where you should go. Whatever writing subject she teaches - take her course!"
"[Online Novel I] was an amazing class. Jaye Wells is passionate about teaching and excellent at it as well as at writing. The intersection of those two things made this a wonderful class. She also has a knack for providing critiques that are honest and constructive in a manner that was just what I needed. I was thrilled to have an opportunity to do a 1:1 with Jaye as well."
"Enrolling in Mag Gabbert's Non-Fiction Essay class was one of the best things I have ever done to further my skills as a writer. Our group developed a kinship that encouraged one another, gave honest feedback during our workshops and we were all truly sad to see the 8 weeks come to an end. Mag was amazing at introducing us to new ideas, pieces, essays, and books while showing us various skills, styles, and nuances of the writer's we studied. I look forward to much better writing as a result of this very positive experience."
"Wonderful opportunity to be part of a literary community and a great workshop. Blake is a great instructor and I will be back again!"
"Jaye Wells led a great Novel Workshop for the past 8 weeks. I'm pleased to have been part of the group that went through this and recommend her and WWD to any serious writer."
"I really enjoyed the Personal Essay workshop. As a complete novice I did not know what to expect but the instructor, Mag Gabbert, made it non-intimidating. I enjoyed reading my classmates' work and getting feedback from them and Mag. The published works that we read were well-chosen and the workshop felt like a mini college course, but without the pressure. I highly recommend this course for anyone interested in getting feedback and guidance on their work and/or learning more about the craft of writing. It was a great experience and I look forward to taking other workshops."
"I took a Fiction Writing Class with Blake Kimzey and couldn't be more impressed. The instruction and materials were great. Additionally, it got me out of my shell and pushed me to start writing. Can't thank Blake and the group of writers that took the class with me enough."
"I so enjoyed Michelle Schusterman's MG/YA novel writing class. It really helped get me started on my novella and her critiques were amazingly spot on with what I am trying to accomplish with my story. I highly recommend any classes she conducts. There was so much great information and she was always available to help."
"I had a great experience taking the poetry workshop with Ashley Mag Gabbert! Her instruction was engaging, thoughtful and flexible to the needs of her students. I've also taken several one-off seminars with Writing Workshops Dallas, and they've all been great experiences! I would definitely recommend this place to any writer."
"Ethan Chatagnier's class really opened my mind and gave me an actual process for mining for ideas that I can use on a regular basis. I feel like I know how to look at, read, or hear anything in the media and come up with not just one but multiple story ideas from it. I had never thought about how to look for questions, conflicts, and characters like that before. It feels like learning how to "flip the script" and find angles like in journalism, but from a literary perspective—which is something I feel I've drastically needed in my journey as a writer!"
"Can't thank Blake and Harry Hunsicker for providing the opportunity to learn about THE INDUSTRY. Hearing Mr. Hunsicker's experiences and listening to his well organized and thoughtful insights into how to break in to THE INDUSTRY really reinforced that I am on the right track, with more to learn. I am getting ready to write my 'Killer Query Letter' (draft one) thanks to Harry! Great class. The Q and A at the end was also very helpful."
"Eden loves teaching, loves preparing for class (she makes LOTS of handouts), loves discussing what makes good writing, and is simply 'doing what she loves best' with her students. The textbooks for both of the Memoir/Fiction classes that I took were excellent, giving examples of both memoir and short stories, as well as defining the unique characteristic of each genre and where they overlap. Eden's handouts were writings by authors she admires and often personally knows, allowing her to explain why or how these authors chose to write in one genre or another, and how/why they may have decided what to include and what to leave out. Occasionally some students didn't like the stories or the characters within, and Eden always replied, "If you want to learn to write, your job is to become a better reader: expose yourself to writings you'd not normally choose, and examine the styles and details that make the characters likeable or not, so that you'll learn how to do it yourself!" Five of us students took Eden's first Fiction/Memoir class this summer, desperate to tell our stories, whether to analyze them, to preserve our memories, or to re-create the lives we've lived. We made progress, but when the 8-week class was over, we decided it wasn't time to quit yet. So all of us signed up again, wanting to continue with the camaraderie and trust Eden's classes provided. The second 8-weeks were worth it! We became ever more confident, our writing was growing alive with detail, and we understood at last what those readings were all about! Eden always made sure that the discussion of each student's manuscript was aimed at clarifying what we thought worked well, what we felt the 'aim' of the writing was, whether this aim was achieved, and then how to better achieve it. And, by the end of the 2nd eight weeks, it was great fun to see the employment of all the tools Eden had taught us and the amazing improvement in each other's writings and in our own."
"The workshops are run by published authors/poets, which I really appreciate as I think the goal for most people taking these workshops is to be published. Not only are they giving you excellent information/suggestions, but they're doing so from a well of real-world publishing experience. Jaye Wells' seminar on world building was great—she not only gave us invaluable insights into the art of world building, but she also approached it from a practical standpoint, helping us to understand how to balance her suggestions with the ultimate goal of real-world publication. I highly recommend these workshops. They're an excellent value for the price."
"I took Mag's Personal Essay / Creative Non-fiction class in the Fall of 2018. We had a mix of student backgrounds - I personally had never taken a creative writing class before, while another student had already been published. Still, Mag lead us through several weeks of great discussion and concrete examples to explain concepts. During the course of the class we wrote two essays with the chance to get feedback from Mag as well as other classmates, and this was incredibly valuable to me individually as a writer and also helped reinforce the concepts we discussed in class. I will definitely be taking another class with Writing Workshops Dallas and Mag in the future!"
"I just completed the nonfiction essay class with Mag Gabbert. Excellent class. Great group to work with. Mag is a tough editor but that is greatly appreciated! I highly recommend it. It was good to get the creative juices flowing again!"
"Eden's teaching has quickly turned my decades of writing insecurity into a deep well of creative confidence. Her engaging class guides both the novice and experienced writer through highly acclaimed written works meant to enhance and broaden their own writing throughout her courses. Reading, writing and critiquing is enlightening and creatively freeing. Thanks, Eden. Your Writing Workshops Dallas classes have had a great influence on my writing!"
"I attend Whitney's Dare to Dream 2018 seminar via live streaming on 14 Jan 2018. She sent out a workbook before class for the attendees and it has awesome exercises to focus my writing passion towards finishing a project. So fortunate to have found Writing Workshops Dallas and grateful to be able to attend via live streaming."
"Listen to me: I can't stop thinking about last weekend's workshop on how to find your plot. The content was captivating, applicable, and rousing. I walked away with a much clearer picture of how to structure (and elevate) my writing. JR Forasteros was a delightful mix of nerd, comedian, and expert. Well done."
"I joined a beginner to intermediate fiction writing group led by Blake. The quality of the workshop, the suggested reads, the mix and number of participants were all perfect. The discussions taught me so much. Handing in my first homework was nerve wracking but Blake as well as the other participants turned it into the best experience with constructive criticism. Blake is a fantastic teacher and is great at getting the group to interact in the most productive manner. I missed it as soon as it ended and I cannot recommend the workshops highly enough.
"Last year I became acquainted with Writing Workshops Dallas and started taking some of the classes they offered. My knowledge and skills as a writer have grown and improved tremendously as a result. I find myself scanning every e-mail Blake Kimzey sends to announce the upcoming classes in anticipation of learning more and more. Yesterday I participated in Mag Gabbert's Submitting to Journals and Magazines. I had never considered submitting in this manner, but having learned all that she had to share of her knowledge, I may now. Mag is very knowledgeable and open to share what she knows and the tools that she uses to become published. I highly recommend her classes, whatever the subject matter might be. I also took her 8-week Non Fiction Essay class and it was AMAZING."
"For the last 8 weeks, I've sat with these incredible writers to learn how to write fiction. In all my years, I've never been more challenged, encouraged, and committed to something than this class and these people. Writing is hard, it takes concentration, commitment, dedication and an imagination. I'm not sure I'm writing the next great novel, but I'm sure enjoying it, and that's what matters. I will miss my weekly class and the intellectual stimulation it has brought, but thrilled we have agreed to continue meeting monthly. I can not recommend Writing Workshops Dallas and the guidance of Blake Kimzey enough. Such an incredible and life changing experience for me!"
"I just completed Mag Gabbert's Introduction to Poetry class and highly recommend it. In six weeks my knowledge of poetry has been greatly expanded and therefore my enjoyment of poetry as well. Mag's approach to teaching and workshopping is engaging and conversational as well as encouraging. If you have any reservations about taking this class, or if you have any fear for having your work critiqued, please put those aside and take this class! It's a truly safe and professional environment focused entirely on helping the writer improve."
"Blake Kimzey has done a great job at the Writing Workshop. It doesn't matter where you are in your writing career you will come out of the workshop with a rich experience and a better reader and writer. Highly recommended!"
"I've only attended one 3-hour workshop but valued the time I spent attending. Blake Atwood spoke about self-editing and I took several pages of notes even though I knew the presentation would be available. I've registered for another!
"I attended an 8-week Fiction class led by Blake Kimzey. I learned so much and have improved as a writer. When aiming for goals, there are certain steps you have to take, and this class was a must for me in my career as a novelist. I look forward to attending more classes not just for the learning aspect but also for the community and support.
"I attended another great Writing Workshops Dallas workshop via Live Stream yesterday with the talented and wonderful teacher Blake Kimzey. If you are a writer who is serious about your craft, take online classes from this group. Affordable, fun and packed with information."
"Thoroughly enjoyed Mary DeMuth's workshop on building readership. Ample handouts and new ideas I had never considered. Definitely worth the time and money."
"Amber Royer's workshop, "Writing Villains as the Mirror of Heroes," was extremely helpful. When I reviewed my notes, I came up with dozens of new ideas that will go a long way toward improving my current work in progress. Thank you, Writing Workshops Dallas!"
"Yesterday filled me with joy. What was I doing? I was in Eden Elieff's Fiction or Memoir Class. Her energy and enthusiasm were contagious. Her materials (excerpts from esteemed texts, both memoir and fiction) were eye-opening. Her writing exercises were invigorating. The entire three hours transported me back to my beloved MFA days and reminded me of why I am a writer. (Bonus: She has her MFA from Bennington!) Through the examination of the passages, I was able to further paw my way out of my pile of confusion over what I am writing and I feel I am closer now to what I must pursue: an autobiographical novel, which I had no idea existed. Or rather, was classified as such. I highly HIGHLY recommend her as a teacher. I look forward to more classes with Eden!"
"I took my first writing workshop with Writing Workshops Dallas and I loved it. The teacher was professional, helpful and engaging. The content was relevant. I will definitely attend more in the future."
"Hello all future students of Writing Workshops Dallas. I took the Non-Fiction class with Mag Gabbert. First let me say that I had never participated in a writing workshop before so this experience was a nerve-wrecking one for me. With that said, Mag made this class go above any of my expectations. I learned something new from each and every class. She created a safe environment to be open and honest yet made sure everyone was aware to be respectful. She heard your thoughts with such an open mind. Every writing exercise was challenging and helped open a new side of me I wasn't even aware existed. She made the reading assignments fully enjoying. I am definitely looking forward to taking another class at the Writing Workshops Dallas (preferably one with Mag Gabbert). Your fellow classmates also really help make this experience a great one. I was fortunate enough to have a class that included a variety of backgrounds. This was definitely well worth the money."
"I've taken two seminars, one on plot and the other on villains. I thoroughly enjoyed both of them and left with a lot to think about and work on."
"I have taken three classes with Writing Workshops Dallas and every class has been well constructed and I've taken away information and was reminded of some things that I already knew! If you are in any part of your writing journey, I highly recommend finding a class to fit your needs and take advantage!
"I took the non-fiction essay course with Mag Gabbert. She is a great class leader and committed to writing. The class always has momentum. For someone like me who is nervously sharing their writing for the first time it's a safe and constructive environment. Your classmates will also be a source of inspiration and development. Enjoy."
"I loved the Fiction I class! Blake gave us practical information and advice on how to finish stories and get them published. The reading materials and discussions opened my eyes to the world of short stories and how to learn from other authors. Reading work from my classmates and receiving their feedback was invaluable and helped me learn so much about my writing. I was never one for sharing my work, but the atmosphere was very open, honest and laid back. It made sharing easy and got me excited about writing again. I hope to participate in another workshop soon!"
"Ashley (Mag) Gabbert's personal essay class was an adventure! An eight-week immersion in analyzing quality essays and trying to attain that in our lengthy writing assignments. Fascinating to get feedback from the wide range of reader types represented as students in the class. Best feedback of all came from Gabbert pushing you to transform good writing into great.
"I attended Amber Royer's class on developing the protagonist in a novel that gets the readers to become involved and interested . It was an excellent class full of amazing substantive instruction. She has a very thorough understanding of this field and I learned a great deal from this three hour seminar. Thank you Amber! I will be back for the 6 week course and I encourage others to sign up. Amber is really great!"
"I took the Self-Editing Seminar with writer Blake Atwood. His presentation, which offered 50 practical editing tips for writers, was a good refresher and a great learning experience. His advice was concise, practical, to the point and also fun! He also provided tips when finding and working with an editor to publish your work. I manage a blog for my personal development organization and from time to time publish academic articles in journals and online magazines. I will definitely use what I learned at this seminar for my writing. Thanks for having a great writing community resource in Dallas!"
"Blake Atwood's self-editing class was entertaining and informative. I'm a journalist who's done proofing and editing — I still learned a lot! The supplemental materials downloaded after class proved to be very helpful."
"I was somewhat 'stuck' in my writing journey and the publishing workshop definitely helped me to refocus, re-energize, and get moving again! Fantastic workshop. Highly recommend."
"I highly recommend the Creative Nonfiction class with Ashley (Mag) Gabbert. I loved the opportunity to polish my writing and get feedback from the class and Mag. Mag's insight and suggestions for my personal essays helped me to be a better writer. The small class setting was intimate and allowed each of us to contribute to discussion. The required texts will be a useful reference as I continue my writing life. I definitely plan on taking another workshop from Writing Workshops Dallas and Mag Gabbert!"
"Attended a workshop taught by Blake Atwood on 'Should I Self-Publish or Seek Traditional Publishing' hosted by Writing Workshops Dallas. I really enjoyed it and left with a better understanding of the pros and cons of both avenues which will serve me well as I navigate the publishing arena. Blake is an excellent teacher, always prepared (this is my second class with him) and very helpful in assuring each student has an understanding of the subject matter. I highly recommend this class as well as his Self-Editing class."
"Mag Gabbert's seminar on Submission for Publishing was just what I needed. The submission process is daunting and unfamiliar for someone without a formal education. The gaps created by me learning through trial and error were all filled at this seminar. Mag's delivery was crisp and on task which I appreciated. She answered all questions in a succinct, understandable, and very human way. I highly recommend this seminar and plan on taking more classes starting in 2018."
"I attended Blake Atwood's seminar HOW TO SELF-EDIT: 50 ESSENTIAL TIPS FOR HONING EVERY MANUSCRIPT on 21 Jan 2018 via Livestreaming. The seminar was full of all types of information, resources, and tips. He sent us a copy of his slides with links to follow up after class. Very informative and helpful. Another 5-star seminar from Writing Workshops Dallas."
"I attended Whitney Davis' class Dare to Dream in 2018 yesterday and it was a very informative, lively and thought provoking time spent honing our organizational skills, goal setting and adding some accountability to our portfolios. Whitney was extremely helpful and I was able to leave with an arsenal of tools, ready to conquer my 2018 goals and beyond. I look forward to the next classes that I have scheduled for this quarter. I think Whitney will be my instructor in one of the others I will be attending. Thanks to Writing Workshops Dallas and Blake Kimzey for making these classes available."
"Excellent program! Just finished the Fiction II workshop with Blake Kimzey and learned a ton. The workshop includes robust critiquing and reading, in a structured format, while sprinkling in good times along the way. Blake also met with me one-on-one, providing specific coaching based on my submitted work and career aspirations. WWD is a place where serious writers go to grow in craft and community, a fast-paced and constructive environment that leads to actionable results."
"WWD's TV & Film seminar was outstanding! Industry-leader Steve LaRue's expertise and knowledge was inspirational. Thanks to WWD for offering such wonderful events!"
"I attended the workshop for screenwriters with TV exec Steve LaRue, and writer's rep Whitney Davis, and walked out with several actionable ideas for some work I have in development. I've also found myself since paying forward their good advice to some of my clients who are creative entrepreneurs. I felt lucky to be in the room, glad to now know you Blake, and a few new colleagues. Thanks for putting this together!"
"This was an excellent workshop and Blake is a great teacher. I was able to rub shoulders with fellow writers and gain their insight from their own writing styles. More than anything it allowed me to grow as a writer. I was able to see my weaknesses and get them out of my work to progress with a stronger piece. It was fun, laid back and always something new when it came to Tuesday nights. I highly recommend the workshops that are by WWD and I look forward to taking another one in the future."
"As a non-fiction writer, I was looking for a fiction writing workshop that would both go over the basics and push me to grow, and Blake's workshop did both. I loved reading the stories from my fellow writers and finding what needs polishing in my own writing. I also loved hearing about the process of fiction publication and learning more about the thriving Dallas literary scene. If you're waiting for a kick to get your fiction writing going, sign up for Blake's class!"

"I completed Blake Kimzey's Fiction II Workshop, and it made me a better, more thoughtful writer. Blake's got a generous, inclusive teaching style that draws the best from each student. The texts we read each week enriched the workshop experience - nice balance. I wish I could take the class again this summer, but I must wait until fall. I'm going to miss the weekly infusion of creative juice. Thanks to Blake and my classmates for a rollicking good time."
"I attended the Poetry from the Senses seminar with Joe Milazzo. I would consider myself more a painter than a poet but was really excited about how this class will inform my studio practice. I really enjoyed the exercise he had us do in class and how we analyzed other poems and learned from others in the class. This class gave me comprehensive and clear tools to approach the writing of poetry and I already feel like I am walking through the world aware of how I'm experiencing it in a richer fashion. I would recommend this class to the novice or the expert or anyone in between, Joe was an awesome teacher and I can't wait to take another seminar of his."
"Blake was so encouraging and inspiring. He really made me want to take charge of my writing career."
"I took the 'Novel-to-Film' seminar led by Whitney Davis, a literary manager for screenwriters and novelists. I learned an immense amount of behind-the-scenes information from a well-connected professional. Now I'm excited to attend more workshops."
"I attended Fiction II and must say that I found it very motivational and inspiring. Blake is a very well read and talented instructor who gave me the needed push to continue writing my novel not only in German bust also in English. I'll be back."
"I attended Whitney Davis' workshop on Could your Novel be a Blockbuster Movie? Tips for Novel to Screen. Even though the workshop was in Dallas, I attended via Google Hangouts. Whitney is a enthusiastic and inspirational teacher with lots of real world advice to share. I learned a lot about the business.
I look forward to future workshops."
"I attended the Poetry from the Senses seminar instructed by Joe Milazzo. I really enjoyed the writing exercise that we did. Also, it was very interesting to look at other poetry and examine what it does for our senses. I can't wait until the next workshop! I would recommend this workshop to anyone who wants to generate creativity and deepen their connection to poetry through examination of the world around us. Joe is great!"
"I attended Whitney Davis' novel to film seminar and learned some fascinating behind-the-scenes tidbits. I highly recommend their workshops."

"I love that Blake allows us to come up with our own writing styles and ideas. One thing that has bothered me about past writing courses is being required to use prompts for story ideas. This was a BIG help."
"Blake Kimzey from Writing Workshops Dallas is one of the best instructors I've had on writing. He puts a lot of thought into his classes and how he will present the content so that it's engaging, extremely practical to apply, and easy to understand. He's also incredibly responsive, encouraging (yet honest about the many challenges that a writer encounters), and caring. What more could you ask for in an instructor!"
"I saw Blake from Writing Workshop Dallas Great present at Serj Books. It was a really illuminated presentation into the rigors of what it takes to get published. Not only was it informative, but it cleared up some of the mystery associated with the publishing process, and gave me a specific game-plan and set of tools necessary to take the next step towards being published."
"Attended a workshop in Downtown Dallas. Laid back and very informative! I would definitely attend another one."
"I've never felt more satisfied with a course and that was due to the genuine care and freedom to create works and discuss criticisms in a professional and constructive way."

"Blake was excellent in guiding each workshop, and allowed for active conversations to turn into excellent feedback."

"Blake is an excellent instructor who inspires his students to make their writing as good as it possibly can be. He encourages his students to write about whatever they want, which puts the creativity in the hands of the students. No prompts were given, and I appreciated that."
"I liked it all."

"This course totally encouraged me as an aspiring writer. Blake does an excellent job of encouraging total class involvement; even the quietest student is encouraged to speak her mind, which aids in everyone's learning."
"Blake did an amazing job of demystifying the writing and publishing process. We're all better informed and still inspired."

"This class has really kindled a passion I have always had, but been too afraid of pursuing. With the workshop and classmates I have left the course really believing that anyone can be a writer if they pursue it earnestly and with a love for reading and writing. Thank you!"
"I truly enjoyed the fact that we were encouraged to write what we wanted to write. Blake's focus is on making what you want to express come out on the page. And by reading published material that didn't come from traditional set texts, it forced us to look at the quality of the writing more objectively. I wish more writing workshops were taught this way."

"Blake made for a great and encouraging teacher because he approached the class as a workshop leader and presented himself as a fellow writer who knew the path rather than a mere 'instructor.'"

"This course was great! I would take the class again as I believe there is so much more I could learn from this instructor."

"Blake is inspirational to work with."
"I took a fiction workshop with Blake and experienced the most informative class on writing. The workshop required that I write two stories and through Blake's positive critique of my work I learned what I was doing well and what needed improvement. The workshop inspired and encouraged me to continue with my collection of stories. I look forward to signing up for another workshop to further my journey as a writer."
"The quality of this class was great! The selected textbooks were great choices."

"Blake created a safe environment where many of us felt brave enough to push our limits, take some risks with our stories, and try something new. There was a frequent and open discussion initiated by the class about how different members of the class had been stretched and expanded. I am definitely a better writer having taken this course with Blake Kimzey."

"This is one of my favorite writing classes I've ever taken and will be taking it again. Everything I learned and accomplished was extremely valuable not only for my writing, but for my future career."

"This was a great course and I would definitely take it again!"

"The workshops were great. I liked the organization of them. I appreciated how polite everyone was. I was surprised that I could write and that people would have nice things to say about it. It was a lot of fun. I learned a lot. Most importantly, I gained the courage to write a whole story and have other people look at it. There was something about having to reading people's stories for their workshop that made me work harder than in other courses. Something about owing something to a particular person made me make sure I got my critiques done."

"This class was absolutely fantastic."

"Blake was probably one of the best instructors I have ever had. I love the workshop structure he has put in place and it was incredibly beneficial to me. I also liked learning how the local literary scene in Dallas looks, and how a writer can find an agent. Very helpful. SO overall, this class was a great experience."