A Celebration of our State's Big Appetite for Literature brought to you by
Writing Workshops Dallas and Gemini Ink.

First Up: David Samuel Levinson's TELL ME HOW THIS ENDS WELL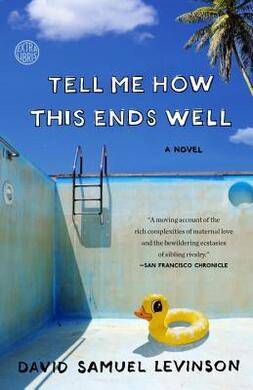 Zoom Meetings Every Two Weeks @ 7:00PM CST: April 29, May 13, May 27, & June 10
THE PITCH
You're stuck at home, entrenched in front of the TV. You're glued to your smart devices and Twitter is blowing up in front of your eyes and you can't run and you can't hide from the ever-pervading end of the world that's being shot directly through the air on invisible beams and straight into your brain. But: you can UNPLUG from the outside world and JOIN us at The Big Texas Read (TBTR) brought to you by Writing Workshops Dallas and Gemini Ink. As featured in
Poets&Writers
,
Forbes
,
Book Riot
,
The Dallas Morning News
, and the
San Antonio Express-News
, we'll be reading ONE work of prose or poetry written by a Texas author every 1-2 months from now until the bug is squashed! We'll be with you all the way from page one to "THE END" with our Zoom author chats and Q&A's, scheduled every two weeks. Think of it as a big virtual book club, only you get to stay home, mix a cocktail, eat a big piece of chocolate cake, and snuggle up on the sofa.
THE BOOK

We'll start with TBTR Co-Founder
David Samuel Levinson's
TELL ME HOW THIS ENDS WELL, a novel as much about the times in which we live as it is timeless. Funny, compelling, smart and brilliantly plotted, we at WWD and Gemini Ink are inviting you to join us in reading and discussing this wonderful novel. We'll read roughly 100 pages for each of our four meetings and David will appeal to your questions as well as explain what it takes to sit down and write a speculative/dystopian novel while actually living through and surviving a tumultuous political climate made manifestly more severe by outside threats. David Samuel Levinson is a teaching artist for both WWD and Gemini Ink and we love launching The Big Texas Read with his novel!
UPCOMING AUTHORS/TITLES INCLUDE
6/24 & 7/8: New York Times bestselling novelist Kathleen Kent: The Dime & The Burn

7/22 & 8/5: 2020 Texas Poet Laureate Emmy Perez: With The River on Our Face
8/19 & 9/2: Winner of the Iowa Prize for Nonfiction Kendra Allen: When You Learn the Alphabet
9/16 & 9/30: Edgar-winning novelist Joe R. Lansdale: Edge of Dark Water

10/14 & 10/28: Debut Novelist Fowzia Karimi: Above Us the Milky Way
11/18 & 12/2: Poet Wendy Barker

FREE GIVEAWAYS

Keep a lookout for giveaways that come with being a book lover and taking part in The Big Texas Read, from free online WWD and Gemini Ink workshops to a manuscript consultation with David himself. Help us celebrate the diverse literary voices of our robust state, and we'll join you in making the most of these unexpected times by keeping you company with great Texas authors and like-minded fellow readers. In these unsettling times, what could be better than a good book, a dynamic discussion, and meeting new friends? What else is there than that? What else will bring us closer together?

PARTNER BOOKSTORES

We're excited to partner with
Interabang Books
in Dallas and
The Twig Book Shop
in San Antonio for The Big Texas Read. You can order your book directly from either bookstore and have it delivered to your front door! Note: If our independent bookstores are sold out of
Tell Me How This Ends Well
, you can always order directly from Penguin Random House by clicking
HERE
. For those of you looking for a great listening experience, don't forget about the audio version, which is narrated by the great actor, Michael Goldstrom.
PRAISE FOR DAVID'S NOVEL

"Unexpectedly affecting...A moving account of the rich complexities of maternal love and the bewildering ecstasies of sibling rivalry." –San Francisco Chronicle

"This frightening glimpse into a near future that has succumbed to hatred rings uncomfortably true with present-day circumstances in America, making it essential reading for our times. In Julian Jacobson, Levinson has crafted an unforgettable villain, whose family fights through the psychic woods of years of abuse and out into a clearing of sorts. Levinson skillfully deploys an unexpected twist that reveals new layers of psychological complexity and gives his narrative a satisfying shape. This is a dark book that casts a powerful light and earns every ounce of the pathos of its denouement."—Matthew Thomas, New York Times-bestselling author of We Are Not Ourselves

"Tell Me How This Ends Well is Cormac McCarthy's The Road doing 70mph in reverse on the 405. David Samuel Levinson's dystopian vision is deeply strange in the best way, perverse and precise and teeming with life, reminiscent of George Saunders, Flannery O'Connor, Nathanael West. A comic novel firing on all cylinders, with one eye on the highway and the other to our future." –Daniel Torday, author of The Last Flight of Poxl West

"Tell Me How This Ends Well is a wickedly funny, intelligent examination of the dynamics of a uniquely strange family, and David Levinson guides these characters through a plot that intensifies in such unexpected ways. Against a backdrop that feels both terrifying and yet utterly plausible, Levinson again and again finds ways to make the struggles of this clan explode with a kind of humor that most writers could not dream of pulling off. A daring, memorable novel." –Kevin Wilson, author of Perfect Little World
ABOUT DAVID SAMUEL LEVINSON

David Samuel Levinson is the author of the novels Tell Me How This Ends Well and Antonia Lively Breaks the Silence. He's received fellowships from Yaddo, the Jentel Foundation, Ledig House, the Santa Fe Arts Institute, the Sewanee Writers' Conference, and the Marguerite & Lamar Smith Fellowship for Writers. He was first runner-up in The Flannery O'Connor Story Prize and placed third in The Atlantic Monthly's fiction competition for his story, "Most of Us Are Here Against Our Will," which was chosen by Mary Gaitskill. Since then, his stories and poetry have appeared in storySouth, The Brooklyn Review, Prairie Schooner, The Toronto Quarterly, West Branch, Post Road, and Fresh.Ink, among others. He served as the Fellow in Fiction at Emory University from 2013 to 2015. He teaches fiction workshops for Writing Workshops Dallas, Gemini Ink, and UCLA Online.
We hope that our lively discussions about literature will enliven you to pick up a pen or sit down at a typewriter or computer and get writing yourself!